Quality
QUALITY PLANTATION
SHUTTERS,
NEWCASTLE AND HUNTER VALLEY
Plantation Shutters are the enduring choice of window coverings. Shutters look great from the inside and out, brighten a room and are easy to clean.
We supply and install a large range of Australian Made and Imported, custom made shutters with a multitude of options and colour choices. Our shutters are long lasting and will add value to your home.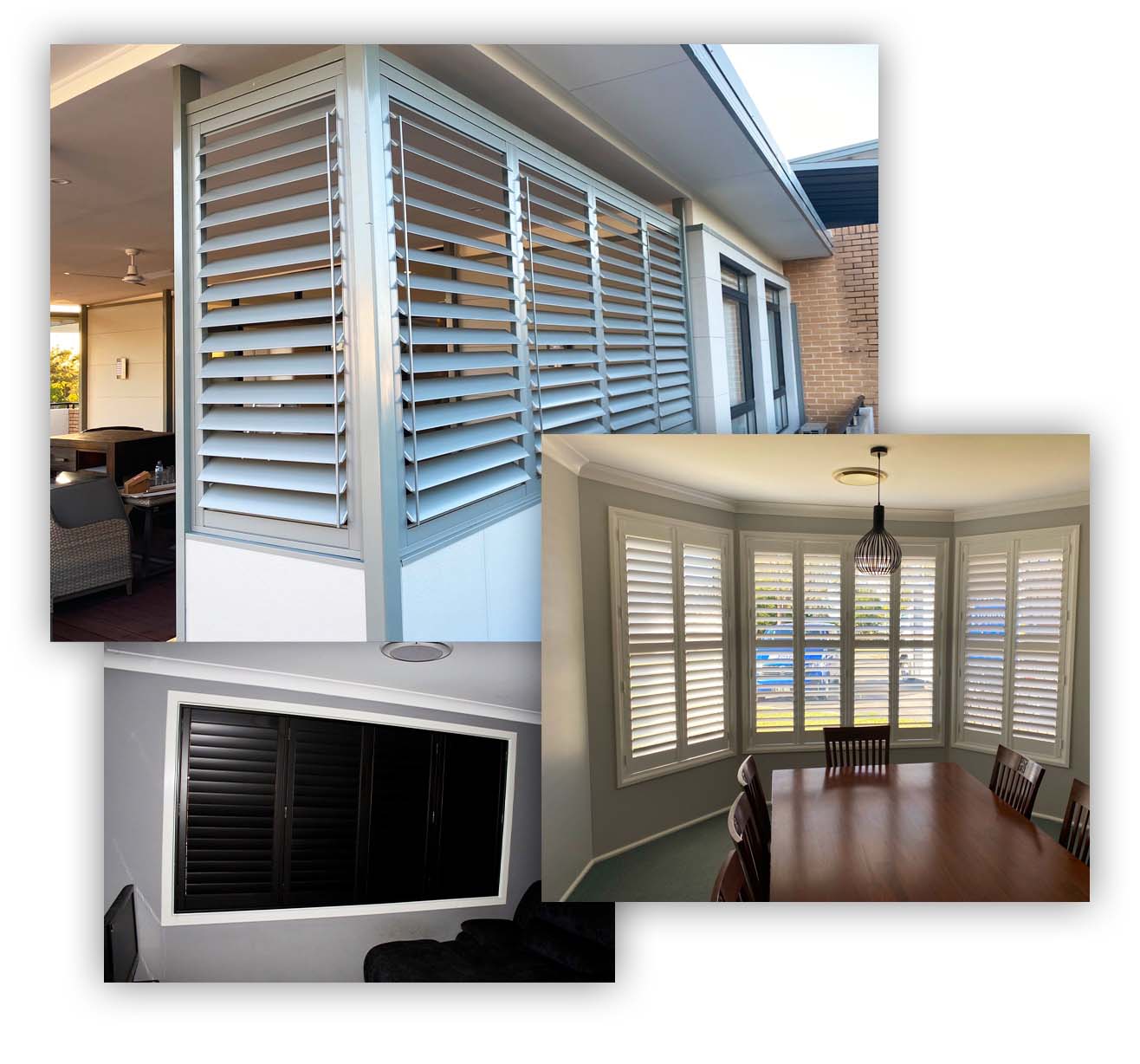 Pick from a variety of sizes, shapes and materials
We can manufacture shutters in various shapes, sizes and can install them in difficult access situations.
The most common question regarding Plantation Shutters is the choice of material. Each product has its own benefits and characteristics. All products provide high insulation from noise and temperature.
Complement and add value to your home with PVC Shutters. With its slim, elegant and refined appeal, PVC Shutters are stylish and provide a durable and moisture resistant product perfect for any home. Our PVC shutters come in solid PVC with an aluminium core for added stability even on larger panels.
These low maintenance and hypo-allergenic shutters allow excellent control of light and airflow into your home. They also are slightly less expensive than timber shutters, making them an option for those who are budget conscious.Their solid construction and polyurethane paint finish which is waterproof ensures they won't crack, peel or fade over time.
PVC Shutters are available with 63mm, 89mm & 115mm blade sizes.
Effortlessly stylish and versatile, timber plantation shutters fit seamlessly into any style of home. Their ability to instantly transform a space and add value to a home makes timber plantation shutters one of the most popular window coverings, and a cost-effective renovation solution.
Our Timber Shutters are constructed from Premium Basswood resulting in a lightweight and durable product. We only supply Premium Basswood Shutters that are finished with an 8 stage Polyurethane coating. The coatings are applied after the Shutter components are assembled sealing all surfaces. Polyurethane coatings are incredibly durable and are the most resistant to fading or yellowing.
Our Basswood Shutters are available in 16 colours of solid and stained timber options as well as beaded and flat style options. We can also provide Custom Painted Shutters finished in any colour of your choice.
Being lighter in weight our Basswood Shutters can be manufactured in Wider Panel Widths and are well suited to doorway / wide window installations.
All Timber Plantation Shutters at Chadwick Blinds & Shutters are manufactured with a mortise and tenon joint for superior strength and durability ensuring the life expectancy of your investment.
Timber shutters are available with 63mm, 89mm & 115mm blade sizes.
The Aluminium Shutter has been designed as a modern function shutter which is aesthetically appealing and perfect for maximising your outdoor living areas including patios, balconies, verandahs and carports. Shutters allow you to control your own environment, including privacy, air, light and weather conditions.
Our Aluminium Shutters are made from high tensile grade aluminium with stainless steel hardware, providing not only long life durability but is ideal for all weather conditions including internal or external applications.
Using only the highest quality finishes, these low maintenance shutters will add style and value to any home.
Aluminium shutters are available with 89mm, 115mm & 150mm blade sizes.
12 standard colour options and custom colours available.
PLANTATION SHUTTERS
GALLERY