Stunning
AN EXTENSIVE RANGE OF BLINDS TO SUIT ANY
HOME
Chadwick Blinds & Shutters has an extensive range of blind products to suit all windows in a large variety of colours, fabrics and textures. Making it next to impossible not to find the right shade, within your budget to suit your home.
In order to achieve the best outcome, we thoroughly explain the many options available. We provide advice on the most appropriate blinds and installation method to suit your windows ensuring many years of satisfaction.
Chadwick Blinds & Shutters only supply blinds with high quality mechanisms that have excellent ergonomics.
Dual Roller Blinds
Dual Roller Blinds provide excellent light and privacy control as these blinds consist of a translucent blind and a blockout blind. The translucent or light filter blind is ideal for daytime use as vision is mainly from inside to outside. The Blockout Blind is used at night when full privacy is required.
Motorisation & Smart Home Blinds
Motorisation is becoming very popular. Blinds can be operated by remote control, singularly or in groups and can also be incorporated with home automation systems such as Google and Alexa.

Venetian Blinds
Allow excellent control of light, ventilation and privacy with our Australian Made venetian blinds. Our high-quality standards are evident in the materials used with aluminium, premium grade faux wood and timber venetian ranges. Each length of material or slat is suspended down a ladder. The ladder rotates forward and backward to allow the opening or closing of horizontal slats, giving you temperature, airflow and light control. Venetian blinds can also be lifted to allow full view out.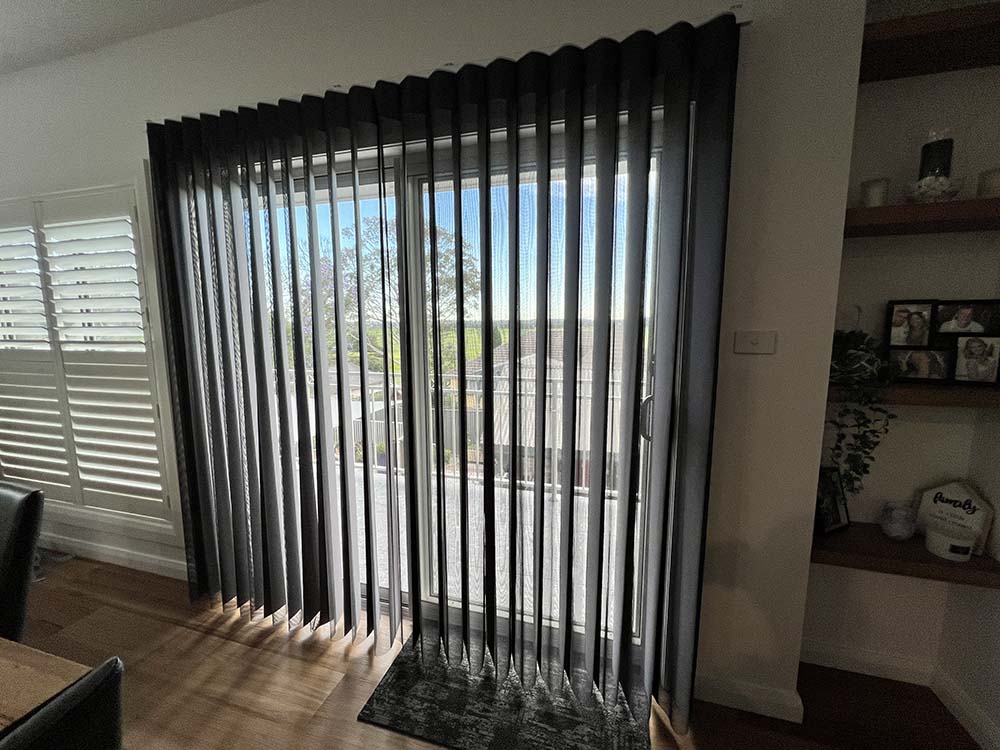 Vertical Blinds
Vertical blinds are a low maintenance, lightweight blind that are a fantastic choice for effective light control in your home or office space.
Vertical blinds are dust and mould resistant, and there is a wide variety of fabrics, including light filters and block outs available at an affordable price.